The Open Food Network (OFN) has partnered with Parkside Business and Community in Partnership (PBCIP) to focus on communities in Camden, New Jersey. Since 2015, this non-profit developer based in the Parkside neighborhood has been the fiscal sponsor for Roots to Market. This initiative creates sales opportunities and training for urban farmers looking to increase their income potential in what the USDA identifies as a "Food Desert". In late 2019, these efforts rolled into a larger, city-wide collective called Roots To Prevention (RTP). The purpose for this cross-sectoral collaboration was to integrate existing diet-related disease prevention programs to establish a more comprehensive health promoting environment outside of the doctor's office. Jonathan Wetstein, the program manager for Roots to Prevention, talked to us recently about their programs and project with OFN. 
RTP today runs four initiatives in Camden including Roots to Market–now selling locally-grown produce to institutional buyers such as healthcare and emergency food service providers. As part of this effort there are garden workshops (Root Camp) and family cooking programs (Teaspoon of Love) which target the city's most at risk of developing chronic illnesses linked to limited access to healthy and affordable foods. RTP and their nine partners have also successfully rolled out a portable Food Bucks Rx. Doctors prescribing healthy food vouchers to patients can now redeem these prescriptions at convenient locations including participating corner stores and mobile food markets. In some instances, these redemption locations are even carrying produce grown by Camden residents.
Overlooking the City of Philadelphia from across the Delaware River, this city of 72,000 residents possesses a unique characteristic. It supports a high concentration of healthcare services and urban agriculture activities within fewer than 8 square miles of land. RTP brings these two groups together to drive change in health inequities. These inequities have been afflicting an alarming number of historically marginalized families, many of whom are largely African American, Hispanic, or both.
Now in their second year of selling local Camden produce directly to larger buyers like Virtua Health, RTP's Roots to Market initiative recognizes a need for administrative support for their growers, who do not have capacity to manage marketing, invoicing and distributing their products. This is where the Open Food Network came in; the two entities have teamed up in a pilot project funded by the USDA's Local Food Promotion Program to streamline management support for growers and food hub managers. RTP is leveraging OFN's powerful tools for online marketing, inventory management, aggregation, and distribution to wholesale and retail customers. They are also exploring new distribution options through a regional aggregator and hope to connect with other growers and customers statewide.
The inspiration for this work came from the desire to find new and innovative ways of investing in local growers living in urban food deserts. By leveraging funding and resources already committed to cities like Camden for wellness and diet-related disease prevention, RTP partners are turning them into community development opportunities for local residents to earn income while promoting food sovereignty.
Jonathan finds partnership with OFN to be supportive and beneficial, with locally grown products set to be available for the first time in RTP's OFN shopfront by mid-July. Jonathan's long-term vision is to increase the number of people growing food, rebuild healthy food economies within the community, and to inspire individuals to explore new culinary and food production skills and businesses. He hopes to empower residents affected by diet-related illnesses to participate as agents of change in the health and nutritional needs of the community.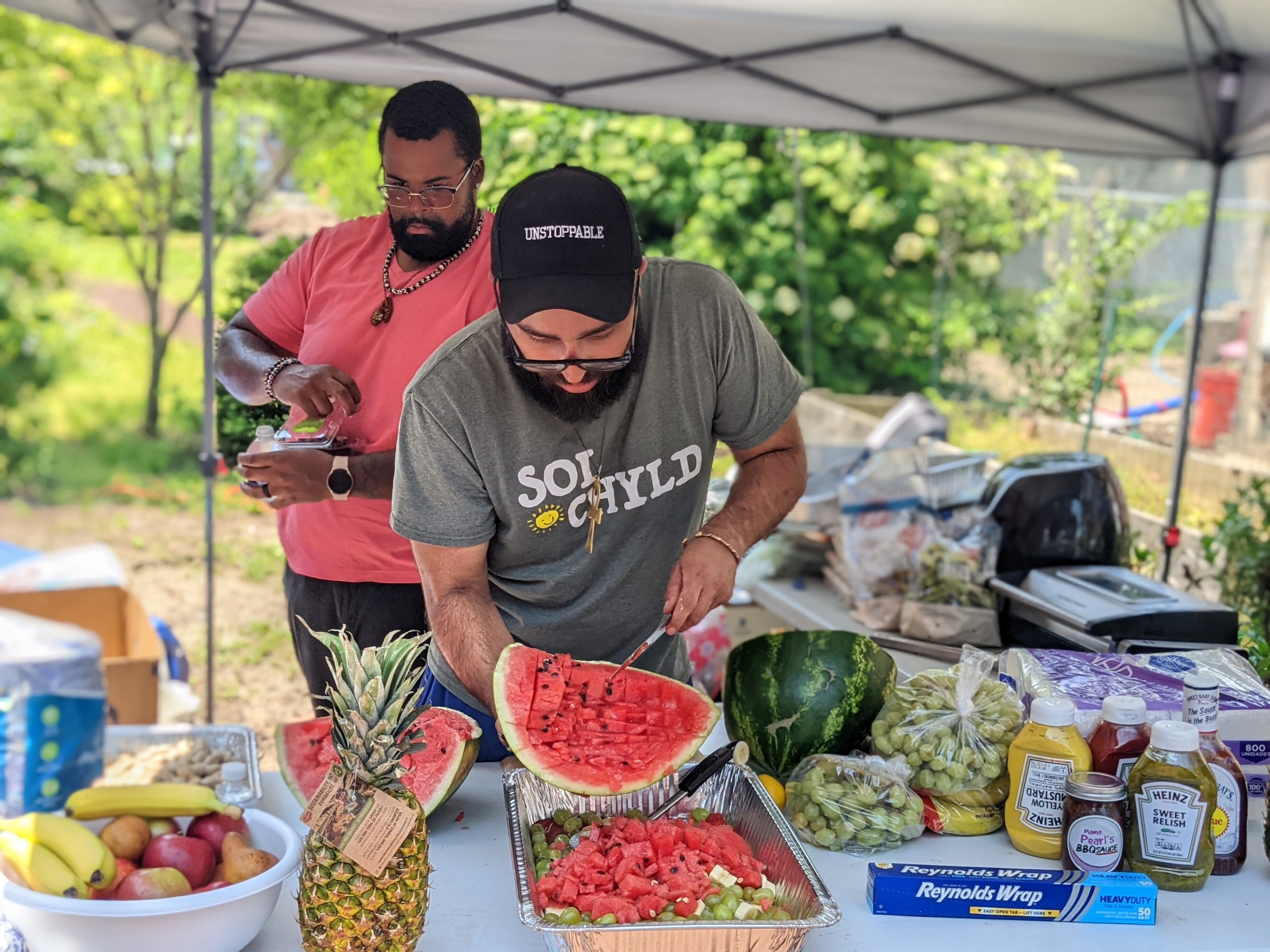 In this image, folks from Teaspoon of Love Veggie Q are getting families excited about grilling veggies and adding produce to their meals​