Let's meet Shannon, the energetic CDO of Etherix who has joined forces with Providence International Garden of Hope, a non-profit organization in Shasta County, California aimed at combating global hunger, and the Open Food Network (OFN) for a project funded by the USDA's Local Food Promotion Program (LFPP) grant. Shannon (also CTO of Providence) introduced OFN to Providence International after they initiated a local food production program in Redding, the Shasta county seat in this rural and beautiful part of northern California, revamping an old site into a thriving food production and distribution center. Shannon was brought in to the Providence team to digitize the farm operations, working with farmOS and implementing OFN for local food marketing and distribution. The partnership expanded to Shasta College, where agricultural technology education using farmOS is provided to college students, and eight local K-12 schools are now being supported in implementing farmOS and OFN for their food distribution efforts.
The Community Hubs project with OFN aims to connect the community with local gardeners and small-scale farmers. The primary community garden, Railroad Farm, hosts  an online hub  and market that showcases the platform and educates the community about OFN. Providence's garden partner program teaches individuals about OFN and its implementation, bringing mobile booths to farmers markets to raise awareness and bring people online. Shannon is organizing open garden markets and "guerrilla" markets to foster connections among local gardeners, farmers and local crafters. Providence is hosting markets 3 days each week in Shasta and neighboring Siskiyou County, to network and promote OFN profiles for other farm food movements. They have also introduced local restaurants to OFN and restaurateurs can source local food from OFN-connected gardeners and farmers.
Working with OFN on this project has been a remarkable experience for Shannon. OFN's openness, flexibility, grace, and effectiveness have been inspiring. The like-minded individuals involved in the global Open Food Network movement have motivated Shannon to invest more in OFN and in other open source tools. 
Shannon envisions this project as part of a nationwide movement to enhance local cottage industries and food production across the country using the OFN software. This approach will generate sustainable local jobs and empower individuals to produce and sell their own products using the OFN platform. The long-term vision includes spreading the school model to raise awareness, educate children, secure local food supply chains, and rebuild connections between communities and the earth.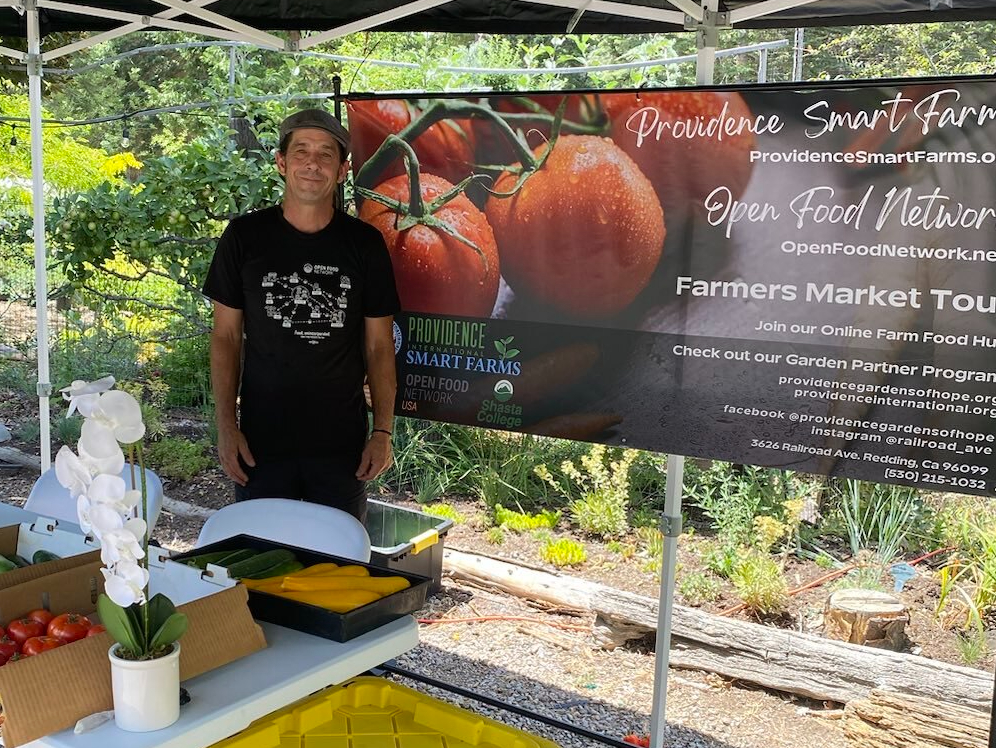 Shan stands in a produce/pickup booth on the farm, July 2023